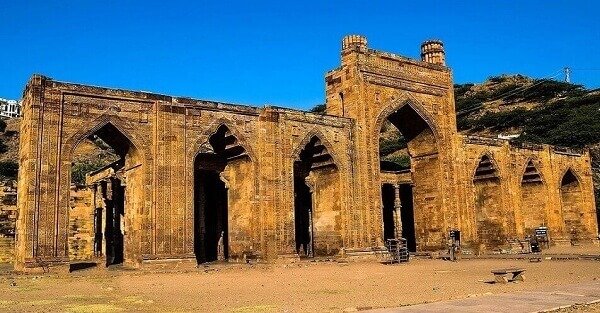 Ajmer Sightseeing by Taxi:
About 135 km from Jaipur Because of the Ajmer shrine situated at a distance, the choice of tourists remains. The name of Ajmer city is named after Ajaymereu. This was founded by Ajaypal Chauhan in the 7th century. 10 km from Ajmer Temple of Ajaypal, situated on the far side, reminds him. Ajmer is a part of the Aravali range in the mountainous region.
There are two types of tourists coming to Ajmer - Jia or pilgrims and those who roam to entertain. The dargah of Khwaja Sahib's Dargah Miran Sahib, Dargah of Baba Badam Shah, Siddhakut Chaitanya, Temple of Dadabari, Saibaba, etc is here. Apart from Ajmer, there is a two-and-a-half-hour hut, Taragarh, Barhadri, Ajaypal Valley, Happy Valley, Prithviraj Memorial, Soni's nuns, Foysagar, etc. Similarly, hill tourism can also be enjoyed here. There is also a picturesque place near Ajmer - Junk temple of Pushkar, Vaidyanath, Gaurikund, Nilkund Mahadev, Baghera, Cheetah of Pitambar, small Udaipur, Bir, Khoda Ganesh, etc.
Ajmer Tourist Places:
Dargah Sharif:
One of the famous religious places of Rajasthan, Khwaja Moinuddin Chishti He was a Sufi saint who dedicated his whole life to the service of the poor and the downtrodden. Here people of all religions bow their heads with full respect. Every year millions of pilgrims come here. This dargah has been constructed in several stages. The original grave of Khwaja Chishti is made of marble and the railing around it is of silver. After prayers daily, qawwali is sung by Sufi singers and devotees.
Jabalra - It is a monument inside the dargah which was the main source of water here during Hazrat Moinuddin Chisti. Even today, the water of Jahlra is taken into the holy work of the Dargah.
Nizam Sikka: It was an ordinary citizen but he once rescued the Mughal emperor Humayun. As a reward, he was made a Nawab of the day. And he was honored with his mausoleum built inside the Dargah.
There are two large rugs inside the Dargah, which are cooked in the Niaz (rice, saffron, almond, ghee, sugar, and nuts). This food is made at night and is distributed in the public in the form of morning offerings. The bigger Kahadah was offered by King Shah of Akbar in the Dargah when it was offered by the small-headed King Jahangir. This mosque is an amazing example of Mughal architecture, where 33 beautiful verses of 99 holy names of Allah have been written. Here is a beautiful silver door, which is called the Jannati door. This door opens four times a year - at the time of annual Urs, twice on the Eid, and on Khwaja Shawab.
Dhai Din Ka Jhopda:
In 1153, the first Chauhan-Naresh Bisaldev built a temple, which was destroyed in 1192 by Muhammad Ghori and he built a mosque called Jhonpada for two and a half days. Some scholars say that its manufacturer was Qutbuddin Aibak. Some believe that this building was originally a Sanskrit school. Whatever was there but now the mosque is surrounded by a wall which has 7 arches, on which the verses of the Quran are written. Columns that are made with a lively base increase the height and become blurred.
Ana Sagar Lake:
Lake Anasagar is an artificial lake. This lake was built by Prithviraj Chauhan, the father of Chauhan, during the twelfth century (1135 to 1150 AD). The name of this lake is named because it was made by Caraji, the sea which gradually turned into Aana Sagar. In 1637, Shahjahan constructed a 1240-feet long siege on the banks of the lake and constructed five barriadas of marble on Pal. Daulat Bagh situated in the court premises was built by Jahangir, also known as Subhash Garden. Aana covers the ocean of about 13 kilometers of the circumference
Taragarh Fort:
Ajmer is a historically important place of Taragarh Fort. This fort situated at a height of 700 feet above Tarangarh hill, situated on the back of a two-and-a-half-hour shanty hill. This fort was constructed in the 11th century to protect the emperor Ajay Pal Chauhan from the invasions of the Mughals. The fort of Taragarh is situated on the hill behind the dargah. Earlier this fort was also known as Ajay Baharu.
If you are going to make a plan to visit in Ajmer Sightseeing then you can hire Ajmer Sightseeing taxi and check the Ajmer Sightseeing Packages.
Our one day Ajmer sightseeing tours.
Feel free to contact us by call +919829373034 or fill the contact form below.